The Bar Brothers System by Dusan & Lazar – Real Review


Hi buddy
If you heard about the "Bar Brothers System" by Dusan Djolevic and Lazar Novovic, and you wonder if this system is really for you, then we invite you to check our in-depth review.
On this review of "The System" by The Bar Brothers we will explain what you can expect to get once you purchase it, how this fitness program work, and which pros and cons you should remember when you make your final decision.
Firstly, let's understand what the Bar Brothers System is all about…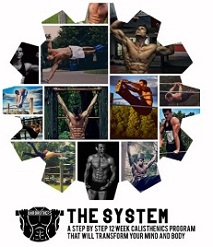 What Exactly Is The Bar Brothers System?
Created by Dusan Djolevic and Lazar Novovic , two fitness and strength training experts which are also known as the Bar Brothers, "The System" is a fitness program that contains various calisthenics techniques that were designed to help you dramatically improve your mind and body in just 12 weeks – without going to the gym or using intricate equipment.
(FYI: Calisthenics is a type of exercise method that uses your body weight to burn excess fats and to build muscles.)
The Bar Brothers System contains various components, and below we listed some of the most important items that you will find inside:
Firstly, as a member, you'll have access to a private dashboard wherein you can access all the documents and videos Dusan and Lazar promised, and to learn all the details on how to monitor your progress.
There are downloadable workout calendars, including a 12-week workout calendar and weeks 1 to 12 workout charts. These color-coded weekly workout charts are organized according to the type of exercises (e.g. handstand pushups), reps, sets, and rest you're going to do for the day.
You'll also get pre-workout quotes and tips, so you can better implement this program.
You will find over 140 training videos that show you exactly what and how to do each calisthenics exercise to ensure you'll perform it correctly and safely.
Dusan and Lazar also share their recipes for homemade weight-gainer shake and pre-workout shake, as well as what they like to eat.
Lots of facts on different body types, protein and carbs are also shared.
You will find information on the major mistakes individuals commit in calisthenics, as well as how you can avoid them.
Tests are also given on Week 1 and Week 12 in order for you to gauge how much stronger you've gotten because of The Bar Brothers System.
Besides all the workouts, Dusan and Lazar also offer a full nutrition section.
You will also find powerful fat-burning routines and 5 killer workout routines that will help shape your body perfectly.
Of course, the Bar Brothers system also comes with a great community support…
That's just the basics of The System by The Bar Brothers. For more details about the different components that Dusan Djolevic and Lazar Novovic provide you can also check their official site.
Now, let's discuss the various pros and cons of "The System"…

The Pros And Cons Of The Bar Brothers System
The Pros
Great Quality Demo Videos
Overall, we really like the quality of the workout videos. They're clear and brief, which make it easier to follow each workout technique. (Each video usually lasts anywhere from 50 seconds to more than two minutes.)
In addition, Dusan Djolevic and Lazar Novovic did a great job of explaining and demonstrating their methods, so you can execute them correctly and safely.
Suitable For Any Person
Whether you're a complete newbie or a fitness buff, we highly believe that "The Bar Brothers System" can be helpful for you, as long as you are willing to work hard with no excuses. This system offers unique and effective fitness strategies that make it stand out from most of its competitors, and it addresses issues that other workout programs failed to solve.
User-Friendly Membership Site
We must admit that we really like the private dashboard of The System by the Bar Brothers. It's easy on the eyes, well organized, and simple to navigate. This means that even people who are not tech savvy won't have problems using their private dashboards.
Unique And Effective
Based on our research, it seems that many customers were satisfied with "The System" by the Bar Brothers. We found many testimonials online from users who say it's one of the most effective workout systems they ever used, and also found some reviews from long-time users who say this system didn't only help them achieve the muscular and fit body they couldn't get from other workout programs they've tried, but also helped them transform their mindsets.
The Price Is Just Right
We highly believe The Bar Brothers System was priced reasonably. It's not dirt cheap, but it's not also super expensive. Most other workout programs from real experts at the level of Dusan Djolevic and Lazar Novovic would be priced higher than this, and with proven results and high-quality workout videos, The Bar Brothers System is well worth the investment.
60-Day Money-Back Guarantee
If you're a little scared to shell out money on something you haven't tried before, it's okay. Lazar Novovic and Dusan Djolevic explain that you can take their system on a test drive for 60 days or less and if within that period you're not happy with the results, you can get all your money back.
In simple words, this guarantee from Dusan and Lazar makes the Bar Brothers System a risk-free choice…
The Cons
Fast Internet Connection Is Important
If you have slow internet connection, we're pretty sure you're going to get frustrated with The Bar Brothers System because it's composed of over a hundred training videos in HD quality. And when you're frustrated, obviously, you'll no longer be in the mood to workout.
Basic Workout Equipment Is Needed
We know that calisthenics use bodyweight to get fit, but for this system, you still need to secure basic workout equipment to get started. For instance, you need bars… However, this should not be a big investment on your part.
Available In Digital Format Only
"The System" by The Bar Brothers is available only in electronic form and you can download the printable workout charts and watch the training videos through your smartphone or personal computer. If this doesn't suit to your liking, you may want to skip this one or simply give it a try for several weeks and see how it goes for you without risking your money…


The Bottom Line
Overall, there is no doubt that The System by the Bar Brothers is worth checking out by anyone who is serious about his fitness goals. This is a high quality product from real experts, and the many positive reviews online just confirm it…
In our opinion, one of the things that really make the difference between The Bar Brothers System and similar fitness programs online is the high-quality demo videos, which were arranged in short and detailed clips. When we watched the videos, we easily understood the explanations and how to execute each technique, and we bet even a teenager could follow these videos without problems too.
In addition, as experts who know the important role nutrition plays in muscle building, Lazar and Dusan provide valuable advice about this aspect, as well as great info about the psychological side of working out. Their helpful tips and motivational quotes are really useful, and we believe that they can truly help people stick to the system for a long time…
With that said, "The Bar Brothers System" is not for everyone.
If you don't have a fast and reliable internet connection, if you like a physical DVD or book, if you never finished any fitness program in your entire life, or if you think that without hard work and determination you will be able to get the promised results, then "The System" by the Bar Brothers may not be for you.
On the other hand, if you want a truly effective workout system that can help you improve your mind and body, if you're tired of going to the gym without getting real results, or if you want to stop spending hundreds of dollars on workout programs or different pills that simply don't work, then The Bar Brothers System is a great option for you.
While it's true that it is not the cheapest out there, this system really works, as proven by Dusan, Lazar, and their growing community of the "Bar Brothers". Moreover, when we scouted the internet, we only read positive things about this system, which is another important positive signal for us.
To sum it up: The Bar Brothers System is absolutely worth a try, even if it's just for a month or two. We believe that's enough time for anybody to see at least some physical improvement by using this system. And remember, the best part is that if within that time period you won't be impressed with the results of the Bar Brothers System, then you can simply ask Dusan Djolevic and Lazar Novovic for a full refund…
Click Here To Get The Complete Bar Brothers System At The Lowest Price Online And Start Burning Excess Fats And Building Rock Hard Muscles Today!
Well, that's everything we had to say in this review of The "Bar Brothers System" by Dusan Djolevic and Lazar Novovic. We sincerely hope we've provided you the information you were looking for and we wish you the best!
Rita and Alex