The Salvation Diet By Chris Walker – Detailed Review


December 2016 update

Hi guys,
Several months were passed since our review about the Salvation Diet was published. Unfortunately, we must admit that during the last three months we got much more negative feedback about this program than a positive one and because of that we decided to remove our original recommendation about this program. Most of the negative feedback we got was related to the after sale customer support and the disappointing results users got after following the program.
You can still check our original review below, just in case you need it for any reason. However, please be aware that the review below doesn't reflect the feedback that we got in the last three months.
There are many other similar programs online that you may want to check out instead of this one, including the 60 Day Fix Diet System that we personally reviewed on our website.
For additional questions about the reasons that led us to remove the original recommendation, please feel free to contact us.
Thank you for visiting our blog!
Rita and Alex 🙂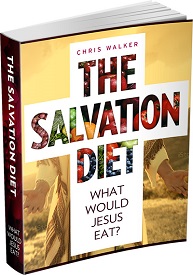 What Exactly Is The Salvation Diet?
Created by Chris Walker, a 42-year-old follower of Christ, The Salvation Diet is a systematic weight loss and health program that was designed to help you shed off 10 to 50 pounds using only Biblical-based concepts and methods.
According to Chris Walker, his God-given mission is to help one million Christians to escape the vicious cycle of obesity. To help people doing so, in the Salvation Diet program Chris offers lots of information on everything that he believes will help Christians shed off their extra weight for good.
More specifically, here are some of the main things you'll learn inside the main guide of the Salvation Diet program:
The one thing you should eat for breakfast to give you energy levels that last all day long.
40 Bible verses that will help you become happy, focused, and shed off the excess weight on "auto-pilot".
A 20-minute workout method that would help dissolves your body's excess fats without spending all day in the gym.
A tasty veggie that's proven to significantly increase your levels of serotonin (which improves mood) in the brain without taking medications.
A 5-minute prayer that will make you feel fulfilled spiritually.
One thing you should eliminate from your bedroom in order to get the best sleep of your life.
A sleeping technique that will turn your body into a calorie-burning machine while you sleep.
A technique that would help put an end to your sugar cravings for good.
How to restore or build your relationship with Jesus and God using "Soul Exercises".
A simple exercise that could lower your chances of dying early by more than 30%.
Information on specific mom-recommended ingredient you should get rid of from your diet in
order to stop bloating in just 3 days, and much more…
Aside from the main manual, Chris Walker also included four bonuses in the Salvation Diet package at no additional cost:
Bonus #1: A comprehensive grocery list that shows you exactly what you need to eat and how to eat properly.
Bonus #2: "The Food Forgiveness Journal" that will allow you to monitor what you're eating the entire day.
Bonus #3: "The Secret of Living Water" which will allow you to discover the real signs of dehydration. (Hint: it's not thirst). Here, Chris Walker will also explain why drinking more fluids will actually deplete your muscles and tissues of water, and the effective way to hydrate yourself.
Bonus #4: In the "Sabbath Sleep Hacks" you'll discover how to sleep less, but still have more energy that will help you last through the day.
On top of those things, Chris Walker is also offering consumers a free access to The Salvation Diet community and a lifetime support.
These are the main things you can expect to get when purchasing the Salvation Diet. For more information about the main guide and the different bonuses that Chris Walker offers in the package, you can also check the official website.

Now, let's continue and take a look at the different pros and cons of this biblical-based weight loss program…

The Pros And Cons Of The Salvation Diet
The Pros
Simple To Understand
This is one of the great things about The Salvation Diet. Chris Walker is able to discuss complex topics in simpler terms, so people of different educational backgrounds could easily grasp the information shared inside his program. You don't need to be a nutritionist, a fitness enthusiast, or a person of faith to benefit from this weight loss system.
Refreshing Approach
We must say that we were a little concerned about The Salvation Diet concept at first. However, after going through all the material offered in this program, we have to say that Chris Walker has surprisingly created the Salvation Diet using a refreshing approach and real biblical-based explanations.
How many weight loss programs have you encountered that draws inspiration from the Bible?
Tasty And Healthy Foods
If you're expecting this to recommend boring foods, well, it doesn't. It seems "Biblical eating" includes a variety of tasty, satisfying, and truly healthy foods. In addition, it doesn't involve any foods rich in sugar, cholesterol, and bad fats.
Offers Different Benefits
From our research online, many people seemed to have success in losing weight using the Salvation Diet program. Moreover, some also said Chris Walker's methods helped them normalize their blood pressure, increase their energy levels, and become healthy in general.
Another thing we liked about The Salvation Diet is that it also addresses the spiritual aspect of weight loss, which is an extremely important part in our opinion. Practicing Christians would most likely really appreciate this part of the program.
1-Year Full Refund Guarantee
Do most authors offer a one-year refund guarantee? Well, not a lot of them do. Most authors only offer a 60-day refund guarantee, and this really says a lot about Chris' confidence for his Salvation Diet program.
We are pretty sure one year is enough time to prove whether this program truly works for you or not, and basically, this allows you to take the Salvation Diet system on a test drive without any risk…
The Cons
Definitely Not For Everybody
As explained before, the Salvation Diet is a faith-based weight loss program. Atheists, non-Christians, and skeptics would most likely raise their eyebrows if ever they stumble upon this program. If you're not comfortable with the idea of "eating Biblically," there are better choices out there for you.
It Was Not Created By An Expert In The Industry
The Salvation Diet was not created by a famous nutrition expert, a scientist or a medical doctor, and Chris Walker is simply a 40+ year-old follower of Christ. If you are looking for a weight loss program that was created by one of these famous trainers that are always on TV, The Salvation Diet is probably not for you.
Only Sold Online
Are you looking for a hard-copy version of The Salvation Diet guide? Well, unfortunately, there's none. The Salvation Diet is available in digital format and sold only online for now. If you're not okay with that, you could either print the main guide on your computer, or totally skip this program…

The Bottom Line
In general, we highly believe The Salvation Diet by Chris Walker is worth checking out.
Most ancient healing systems acknowledge the connection between the mind and body, and a balanced mind or spirit will eventually show up on a person's physical condition. This is exactly the idea behind The Salvation Diet and it is one of the things which we believe make this fat loss program so effective when compared to other programs that don't focus on the spiritual aspect of weight loss at all.
We also must admit that we really doubt anyone would get the techniques and tips offered here wrong. Chris Walker explained everything in simple terms, so users could easily grasp what he wants them to do. Just be sure to read everything from start to end and to stick to Chris' instructions to the letter in order to get the best results from his program…
As expected, the Salvation Diet also has its downsides. However, most of these downsides are true to all weight loss programs. For instance, you can't take shortcuts, and you can't use this diet when you just "feel like it." Discipline, willpower, and the right mindset are three important things every person who plans to lose weight should possess. In addition, if you're a hardcore skeptic, atheist, or non-Christian, then The Salvation Diet might not be for you as well.
On the other hand, if you are looking for a healthy weight loss program that can help you escape the vicious cycle of obesity and shed off your extra pounds by using only biblical-based concepts, then The Salvation Diet can be a great choice for you.
Moreover, considering the one year money back guarantee that Chris Walker provides, we definitely think that his Salvation Diet program is worth the try. In the worst case, if you believe that this weight loss program is not for you for any possible reason, you can simply ask Chris for a full refund within 365 days…
Well, that's it for this review of The Salvation Diet by Chris Walker. We hope we've provided you with enough information to make a wise decision, and good luck with getting rid of your excess weight soon!
Rita and Alex 🙂