VFX Body Fat Loss System By John Barban – Full Review


Hey ladies
in this post we will review the VFX Fat Loss System by John Barban. We will start our review with explanations about the way the VFX system works, talk about its most important pros and cons, and then summarize everything that you should bear in mind when making your final decision regarding John Barban's weight loss program.
Let's start with basics 🙂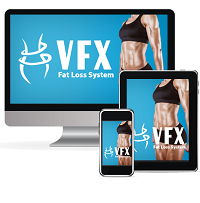 What Exactly Is The VFX Body System?
Created by John Barban, a sports supplement researcher, certified kinesiologist, and strength and conditioning coach, "VFX Body" is a weight loss program for women that offers various exercise and diet combinations which you can fit easily into your lifestyle, so you can start losing weight in a healthy way.
How It Works
John Barban explains that the VXF Body program was designed especially for women who want to shed off the excess weight naturally and healthily, without spending countless hours in the gym, taking weight loss pills, or giving up their favorite foods. Its effectiveness lies in what they called the Metabolic Override, which is a group of customized diet and exercise strategies.
More specifically, John divides the VFX Body fat loss system into four phases, namely:
Customized Nutrition
This phase gives you different nutrition suggestions based on specific information about you, like your unique physical makeup (shape and size) and daily activity, through the help of a nutrition app.
Customized Workout
As what it suggests, this phase offers brief and easy-to-do workouts that fit to your body type and fitness level without using expensive gym equipment.
The Community Support
To ensure you stick with the program, the Community Support will give you access to an exclusive community of people who are using the VFX weight loss system as well. You can share each other's favorite weight-friendly recipes, workout tips, and experiences.
Advanced Customization
The "Advanced Customization" phase will build on your successes in the previous phases in order to get the best possible results from the program.
Just to summarize, when purchasing the VFX Fat Loss System you will get:
The main manual (eBook) where you'll discover the program's diet and exercise principles that would help you lose weight effectively.
An access to a video library with more than 140 videos, which will show you exactly how to perform each exercise safely and effectively.
"The Virtual Nutritionist" app that monitors the foods and drinks you consume daily.
An access to the exclusive immersion community that will allow you to maximize your results from the VFX Body
Well, this is just a quick overview of the VFX weight loss program. For more information about the 4 phases and the science behind the system, you can visit this page on the VFX Body website.
Now, let's go over the different pros and cons of John Barban's fat loss system…

The Pros And Cons Of The VFX Body System
The Pros
It's Simple To Understand And Follow
We doubt you'll end up confused after going through all the materials offered in the VFX system. John Barban used simple language and provided all the necessary tools you need (the app, demo videos, and text guide) to implement his program effectively and safely.
Saves Money In The Long Term
The exercises in this program don't require you to have a gym membership because you don't need special workout equipment for this to work. You can do everything right in the comforts of your home.
The Diet Is Not Restrictive
You don't have to say goodbye to your favorite foods, like pizza, while following the VFX fat loss system. We believe that the fact you can still enjoy this kind of foods occasionally will help you to stick longer to this program and get much better results in the long-term when compared to restrictive diet plans.
It Gives You A Body To Be Proud Of
If you're into functional strength exercises, VFX Body is not for you. However, if you just want to be healthy and have a body that's to die for – which we believe most women hope for – then the VFX weight loss system could be what you're looking for.
The Program Doesn't Involve Diet Pills
If you've used them before, we're sure you're aware of their potential side effects. Depending on the type, you could experience high blood pressure, sleeping difficulties, frequent loose bowel movement, nausea, headache, dependence, and withdrawal symptoms, among others.
The great thing about the VFX Body fat loss system is that it doesn't require you to take any kind of these pills.
There's A Full Money-Back Guarantee
You have sixty days to try the VFX weight loss system and if you don't achieve the expected results within that span of time, you can send John Barban and his support team an email in order to get a full refund.
ClickBank manages the order and refund process of this product, which means you can be sure that this is a real "no questions asked" money back guarantee…
The Cons
Not For Everyone
Well, as we've mentioned before, John Barban created the VFX Body program specifically for women. This means that if you're a man, there are better weight loss programs for you online.
It is also important to note that the exercises might be a bit too unusual and difficult for complete newbies.
Results Will Vary For Each Person
There's no guarantee that you'll achieve X results in X amount of time when following this fat loss system. Each person, including you, has unique physical makeup, experiences, food preferences, and personal habits that may affect your weight loss goal.
We will recommend you to keep your expectations from the VFX Body weight loss program realistic and to understand that it won't give you results overnight.
You Can Purchase It Only Online

When purchasing the VFX Body system, you have the option to choose between a physical version or a digital one. However, it is important to note that this program is not available in stores, and the only way to purchase it is online…

The Bottom Line
Overall, we definitely believe that VFX Body is worth checking out, especially if you've already tried other "generic" weight loss programs and failed to get amazing results. Based on our research, it seems that so far this program received many positive reviews and work as promised for most people who have tried it.
With that in mind, it is important to say that while the VFX Body system doesn't restrict your diet, there are certain foods and beverages you shouldn't consume, such as refined carbs and alcoholic beverages. Remember that the goal of this weight loss program is to help you eat healthy meals that are according to your unique body type, fitness level, and lifestyle. You must be prepared to change your eating habits if you really want to get amazing results.
In general, if you're not going to give your best efforts, if you've never exercise in your entire life, or if you are expecting overnight results, then the VFX weight loss system might not be the best option for you.
On the other hand, if you've been struggling to lose weight despite your best efforts to diet and exercise, or if you simply want a weight loss program that's, safe, effective, and specifically made for women, then VFX Body is a great option for you.
We must admit that considering the huge video library, comprehensive manual, useful nutrition app and supportive community, we personally believe that the VFX Body system offers a great value for money when compared to other weight loss programs for women.
Moreover, with the 100% refund policy, we don't see why you shouldn't try this one risk-free for at least several weeks…
Well, this is all for this review of the VFX Body fat loss system by John Barban. We really hope this has helped you make up your mind.
To a sexier and healthier body!
Rita and Alex 🙂
Click Here To Get The Complete VFX Body Program At The Lowest Price Online, And Start Following John Barban's 4-Phase Fat Loss System Now!